Consumer-Generated Content: A Goldmine for Behavioral Marketing
Technology has become a significant aspect of civilization. Every day billions of individuals use it to connect with family, friends, and coworkers via social network sites such as Facebook, Twitter, Instagram, YouTube, and LinkedIn. During this process of virtual communication, consumers generate tons of data which usually includes content that shows off their favorite brands. This type of content is formally known as consumer-generated content (CGC).
In this article, you will learn why your company needs CGC, how it can be used to your advantage, and most importantly, its role in behavioral marketing. Let's begin.
What Is Consumer-Generated Content?
In the past, brands relied solely on professional content creators to generate materials for advertisement or educational purposes. However, certain advancements in technology have since inspired ordinary individuals to excel in creative fields such as photography, videography, and digital design, thus enabling them to become content creators as well.
Today, almost everyone can produce high-quality content using their smart devices and share them with other members of the online community. This type of content is formally known as consumer-generated content (CGC) or user-generated content (UGC), and it includes any online text, image, or video that is based on a brand and is created by consumers.
Consider the following case study for a better understanding of CGC:
During a weekend visit to a beautiful resort, a customer takes numerous photos of the location and shares them on Facebook, geotagging the resort in each post. Those pictures and videos are considered consumer-generated content.
And, if by chance the resort's marketing team discovers the pictures, they can request permission to use them on the company's commercial channels as part of its marketing strategy.
The Advantages of Using Consumer-Generated Content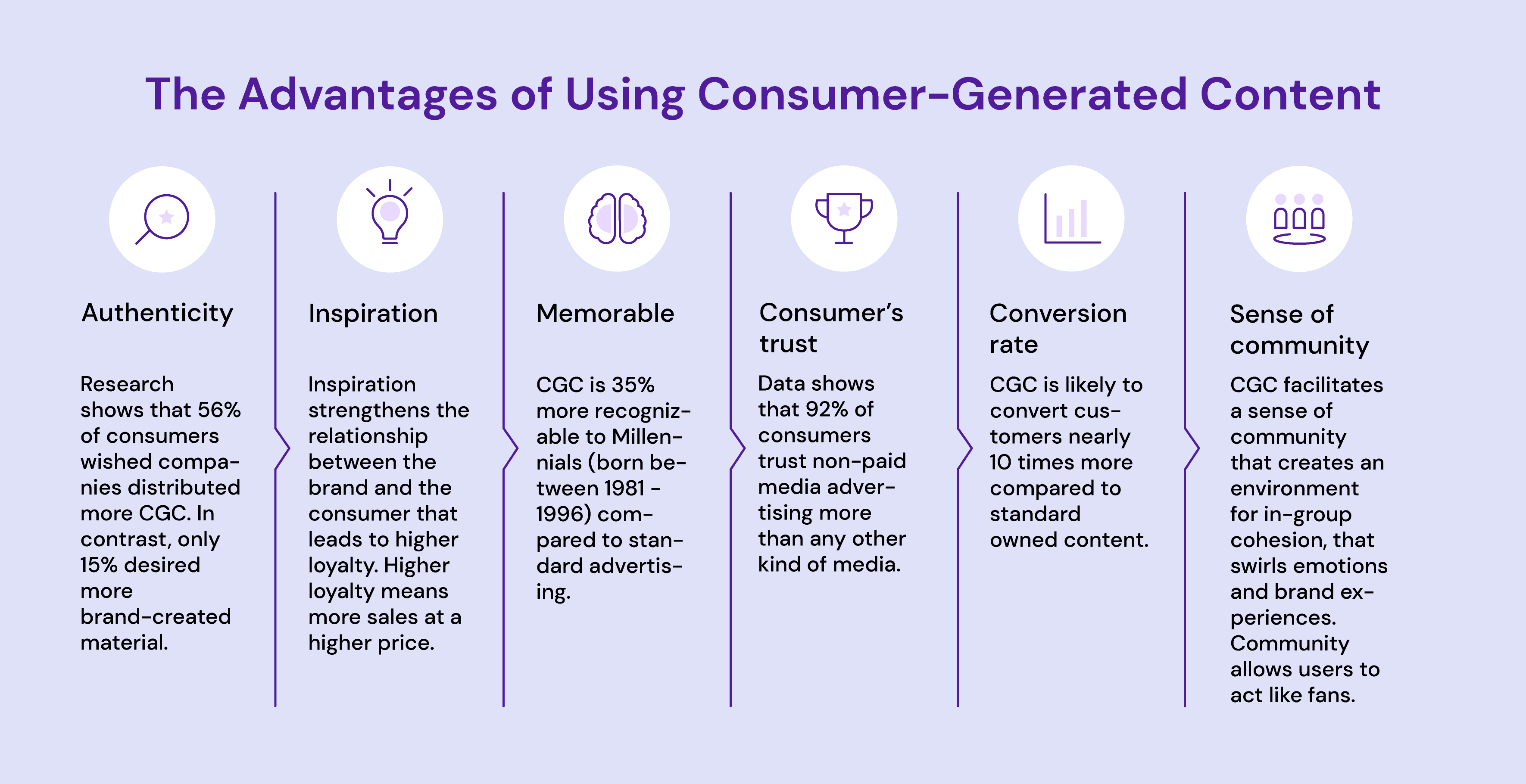 When CGC first gained recognition, it was difficult to justify replacing the usual polished corporate content with unrefined consumer content. Businesses were, therefore, hesitant to adopt any CGC as a representative of their identity.
Thankfully, consumers have since evolved and their gadgets and equipment for content creation have also improved. Now, there is a surplus of consumer-generated content on all social media platforms. For example, every day 350 million images are uploaded to Facebook, 95 million images (and videos) are posted on Instagram, and over 500 million tweets are broadcasted on Twitter. So, it is no longer possible for brands to overlook CGC and its invaluable contribution to the world of business.
As a matter of fact, recent stats have revealed that consumer-generated content is the most reliable, impactful, and freely available source of material for marketers because of the following reasons:
1. Authenticity
The main objective of professional marketers is to create flawless text and imagery. However, consumers respond better to originality than they do to perfection. This was confirmed by a recent data report which indicated that brand authenticity is indeed crucial for soliciting support from consumers and further proved that user-generated content is more authentic than brand-created content in the eyes of consumers. The report also showed that 56% of consumers desired more CGC from companies whereas, only 15% desired more brand-created material.
2. Inspiration
When a company uses CGC, it strengthens its relationship with customers by making them feel like contributors to the brand rather than bystanders. This feeling of inclusivity is what inspires customers to support and, also, earn their loyalty.
3. Memorable
The online community is full of many distractions so, businesses are constantly fighting to engage consumers and keep them interested. According to research, conventional advertising is less memorable than CGC which is 35% more recognizable to millennials.
Take, for example, Coca-Cola's 'Share a Coke' campaign which cleverly utilized CGC by adding common names to their bottle labels and then encouraging customers to share "your coke" pictures on social media. This unforgettable initiative promoted meaningful interactions among customers and produced a 2% rise in Coke sales after years of loss in revenue.
4. Consumer's Trust
Gaining a customer's trust is one of the most challenging tasks in marketing. However, it can be easily accomplished with the use of CGC because, according to recent stats, 92% of consumers trust "earned media" (such as suggestions from friends, family, or coworkers) more than any other kind of media.
5. Conversion Rate
Consumer-generated content significantly impacts purchasing decisions of 79% of customers whereas, brand-generated content only influences the buying options of 8% of consumers. Therefore, CGC is 9.8 times more likely to convert customers than content produced by hired professionals.
6. Sense of Community
CGC has a tremendous ability to tap into people's inherent need to belong. This realization has caused many brands to refocus their marketing strategies to include more fundamental human connections. So, customers who are seeking a sense of community are now able to share their personal experiences, and passion for the brand all while contributing to the brand's identity.
The Role of Consumer-Generated Content in Behavioral Marketing
What Is Behavioral Marketing?
In the past, organizations have been known to employ some less-than-ideal marketing practices such as bombarding consumers with generalized ads, emails, and other forms of outreach that were ultimately ineffective, and a waste of time and capital.
However, marketers have since adapted their strategies to be based on not only economics but on certain aspects of psychology and sociology as well. Hence, contemporary marketing is influenced by consumers' behavior to a large degree.
Behavioral marketing, as it is formally known, is a marketing strategy that is based on consumers' interactions with a brand's website, social media pages, ads, emails, and product pages. In summary, these interactions are used to help brands segment, target, and engage their consumers according to their unique interests. But, where exactly does CGC come into play?
According to a recent SendPulse blog article, behavioral marketing works by integrating three phases:
1. Data collection and analysis: All relevant consumer data is collected from various channels such as search engines, mobile applications, and social media. This data is then analyzed to provide insight into consumers' behavior, for example, what keywords they best respond to or which social media site they spend the most time on.
2. Audience segmentation: Consumers are grouped based on similar behavioral patterns. This enables brands to target consumers with marketing content that is unique to their interests.
3. Data application: Finally, insights from the data collected are used to drive marketing efforts.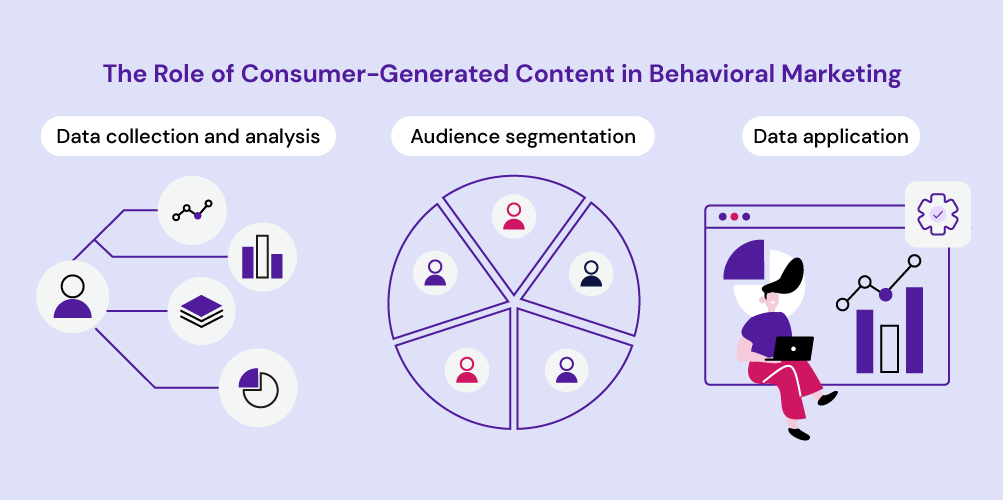 Consumer-generated content plays a minor but significant role in the data collection and analysis phase. Here is how.
Social Media Analytics
Social media is the largest source of CGC because it is an excellent platform for consumers to interact with businesses and vice versa. But, these interactions are not always welcomed. For example, some social media users dislike interruptions from advertisements, especially when they do not align with users' personal interests. This is where social media analytics (SMA) gets involved.
According to modern tech professionals, social media analytics describes the process of collecting and assessing data from social media networks to foster better decision-making in business. With this approach, organizations can also acquire an in-depth understanding of their online customer base because it goes beyond basic scanning and studying of their social behavior.
For further clarity on SMA, it should be noted that "social media networks" are not limited to sites like Facebook, Instagram, and Twitter. These networks also include forums, websites, blogs, news agencies, and any other online platform where people express themselves.
So, it is no surprise that social media provides a treasure trove of consumer insights that cannot be found elsewhere.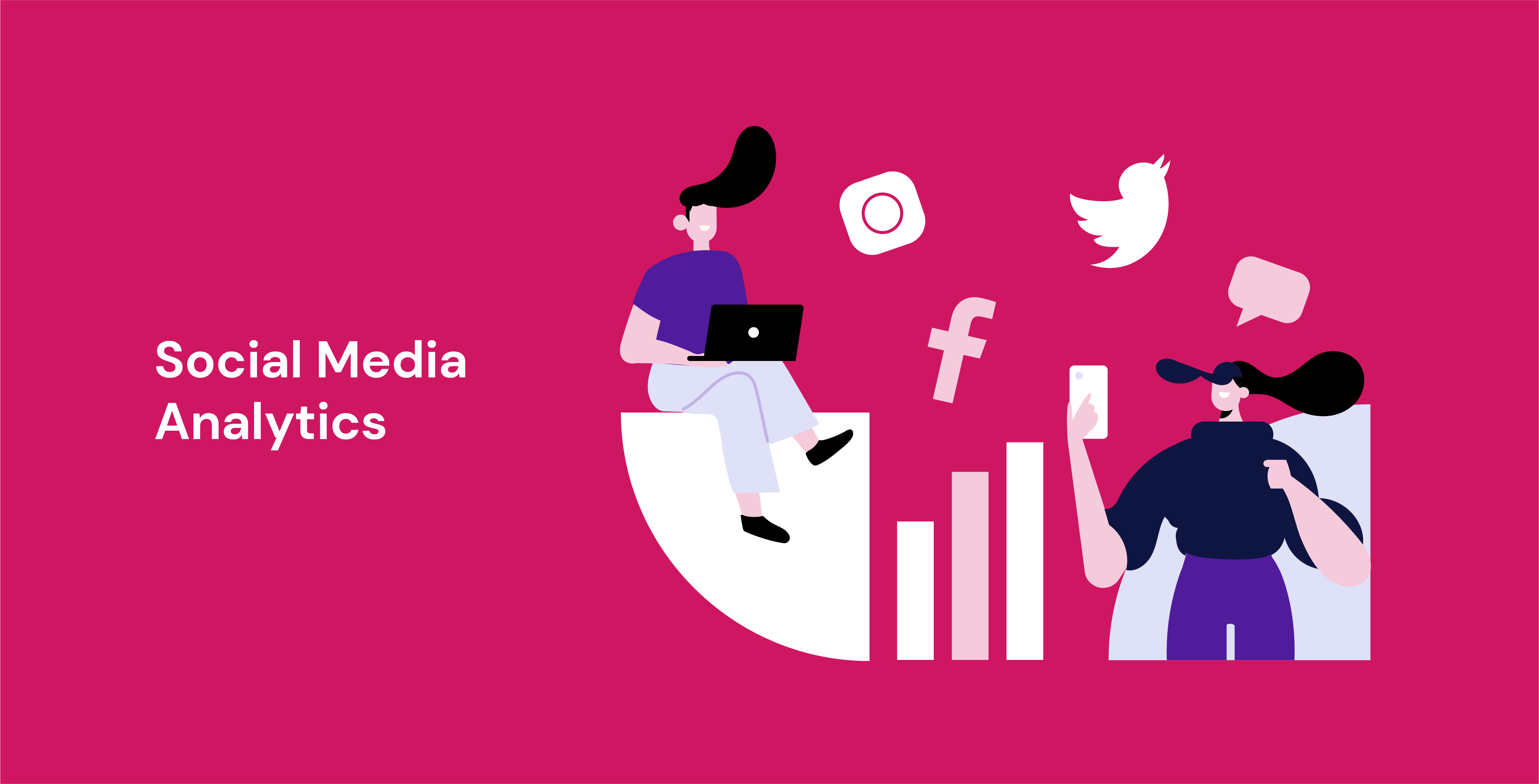 Success with social media analytics depends on your brand's ability to sift through the clutter of CGC and other social data, obtain relevant information as well as monitor changes in patterns and trends, and maintain a functioning market.
However, many retailers disregard the effectiveness of SMA because they automatically assume that the process of sorting through all social media content (including spam and content from internet trolls) is a time sink. But, with the employment of AI software and tools, the process of analyzing data can be a breeze.
Data Collection and Analysis Using AI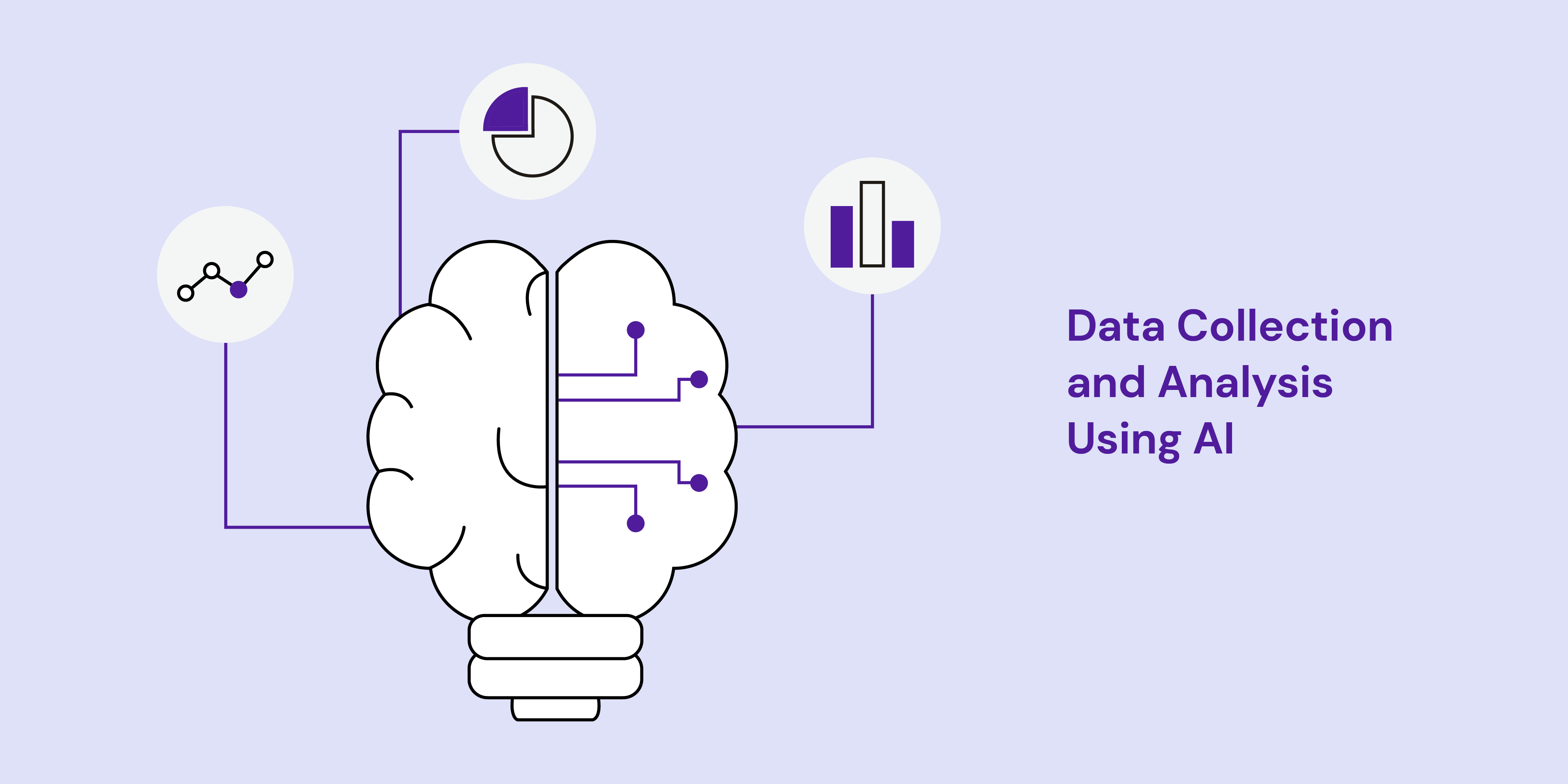 The evaluation of online content used to be challenging for some. However, for today's organizations, there are advanced analytics applications that can collect data from multiple sources to create a valuable dataset and promptly achieve business objectives.
With powerful AI capabilities for data analysis, companies can strive for quick and efficient operational processes, improve their customers' digital experience and even boost the quality of products as well as the production rate. In addition, utilizing AI technologies to derive data-driven insights can also enrich the workplace, save marketers a significant amount of time, and help businesses surpass the competition.
So, as CGC becomes a significant part of brands' marketing strategies, marketers can pursue AI-driven solutions to help them gather, manage and optimize this ever-growing collection of digital data.
However, the use of AI to evaluate data goes far beyond business intelligence. AI may also enable companies to use automated techniques as well as AI algorithms to execute activities, such as sending out customized messages, outlining faulty procedures, or even processing orders for products.
Conclusion
The advent of technology has empowered online consumers to provide feedback in the form of consumer-generated content. Employing the right data analysis techniques and tools to find, collect and analyze this type of data is an essential part of behavioral marketing because it enables businesses to obtain useful insights and manage future decisions. It is also arguably the most effective and scalable method for creating unique and appealing experiences for consumers. So, consumer-generated content is, without a doubt, a goldmine for behavioral marketing.